Pandora's Box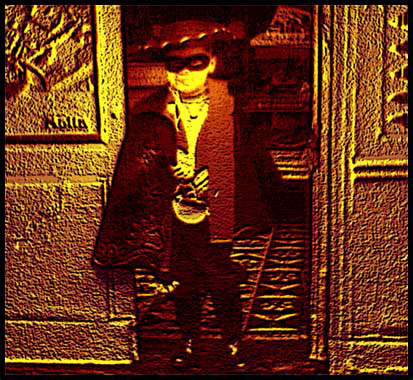 Philippe Blanchard — "Pandora's Box" (1986) / "I No Longer Want To See the Sky" (1988) / "And Ring the Couscous" (1990) / "Were It Hurt to You" (2000).
Old Europa Café. Duration: 65:40.
---
We are all receiving a friendly welcome into this CD by Philippe Blanchard, but all hell breaks loose right after that, with screeching, creaking, bursting sounds; tight, close, near, rubbing your ears bloody, tearing hairs from your head… Wow! What a grand opening for someone wanting to feast on the acoustics this afternoon!
The initial work is called "Pandora's Box" (1986), and the subtitles of that piece are "Presentation of the World", "The Hunting of Aceton", "The Bath of Diane", "Expectation" and "Death of the Deer". The piece is almost 20 minutes long.
Philippe Blanchard is well-known for his faiblesse acousmatique, and he works along those lines here too, making me think of both Iancu Dumitrescu (the screeching, grinding, gliding, frictional aspect) and his British colleagues Jonty Harrison, Denis Smalley and Adrian Moore (presented recently in "the British Connection" on Canadian Empreintes DIGITALes) — but Blanchard works in a different tempo, throwing minute fractions of durations at us in the wink of an eye, not caring at all if we have the perceptual ability to take it all in… Well, there's always the re-spin to consider, of course.
A sense of African drumming shimmers somewhere inside the scheme of things too, only to take on a resemblance of an old Massey Ferguson tractor or an equally old fishing boat moving out of the harbor.
An austere, dreamy birdsong tickle in the higher pitches, and I recognize the more violently screeching albatross sounds from the CD "Sale Timbale"…
I think Blanchard is unusually rough in this first piece, creating some kind of Sex Pistols electroacoustics, really laying it on us, to see if we can take it… Well, I can, but I'm in the difficult listening business; I mean, that's what I do, listen, even with pleasure even when with difficulty!
A rolling, murmuring backdrop is provided, in front of which mad birds pan back and forth and plucked piano strings plong and plonk. Great stuff! Play this for your uninitiated friends, and you'll get some kind of reputation, whispers behind your back… Redshifting railway crossing bells bulge and bend in the sonic stone crusher… or interstellar star crusher… and we're balancing on the horizon of events of a big fat black hole… until the soothing accordion tones make life easier for a short while…
Is that Malcolm Goldstein there inside the traffic? Sounds just like him; the plucked and scratched violin — but then what; a cookie monster munching away! And holy medallion, a Duck Tale guitar, followed by murderous dark whinings and cartoon figures scared stiff, scared scattered, scattering all between your ears…
This is indeed madness, and we like it!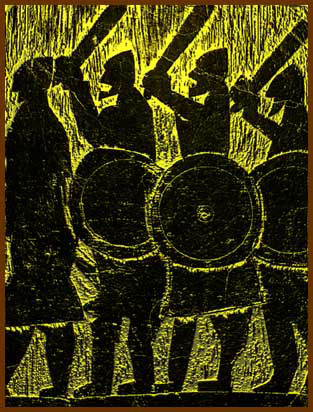 "I No Longer Want to See the Sky" (1988) introduces a kind of melodic initiality, with female voices providing a human feel. It's a repetitious game in different layers, all with their own tempi and distance. Acoustic instruments pop up, like violin and acoustic guitars — and Malcolm Goldstein seems to be around through this crazed session too. No doubt these Frenchmen have a good time making their tracks! It's all good fun, and at the same time intriguing and really interesting. I don't think Blanchard is for the common man — if there is such a man — but for aficionados and free-spirited humans he is a close ally! He has already become a household word at my place! The risk is, though, that the person who demands the playing of Blanchard at every get-together, conference and party will end up having to establish: "Look! No friends!"
Part of this piece is serene, otherworldly, out of wake dreams, extremely beautiful — especially in the part of "I No Longer Want to See the Sky" called "Angel Concert". This is reminiscent of early electronic music too, in a fresh and creative way. At certain instances you would even suspect Blanchard of having broken in to the WDR studio in Cologne, taking with him some of the old, famous machinery of the 1950s.

"And Ring the Couscous" (1990) is a very peculiar title. This long piece (in excess of 18 minutes) winds up like Stockhausen's spaceships in "Sirius", gradually getting more frantic, the droning sound panning and circling madly — but unlike the start of the preceding pieces this one seems to build up to a more epic entity, not so fragmented as the other ones. It is indeed very spatial; much more so than what I've heard so far from Philippe Blanchard — and the events are longer, more sustained — extremely beautiful; still very interesting, original. This indescribable music has to be described by me, but it can only amount to very personal, subjective approximation — especially concerning this rich, so very rich, music of Philippe Blanchard.
"And Ring the Couscous" is a gathering of magic forces, full of good will and kindness, but still dangerous — because if you get to close to one of these fairies fluttering around with shiny, transparent wings, right around your head, in front of the sun — you get at sharp pain from those sparks of electric energy!
This piece deserves to get more widely known, because of its immense beauty and uncanny ingenuity. So much has risen out of the electroacoustic field these last years, and so much of it has been so good — but Blanchard is something extra even then, not really comparable to other composers I've heard, simply because of the intense richness of his sound web. This piece, beginning in an austere and sweeping manner, soon, however, moves over into a character that I've come to regard as Blanchard's own; the incredibly fast transitions between sound pictures, sometimes a whole load of them in simultaneous layerings, or one clearly passing above another, or behind of, or in front of… I think Blanchard has taken the best influences out of both Stockhausen's and Pierre Henry's oeuvres, and shaped it into his own frantic experience. I have to give up on this one, though — it IS indescribable. I can't even get close, verbally. This HAS to be heard, and that's it!

The last piece is "Were It Hurt to You" (2000). I don't understand the title. Could it be another language mix-up?
The music begins in a solemn manner, in a growing tutti from a whole symphony orchestra, it seems, heavily depending on the strings, in a drone that is joined by the rushing and roaring sea and/or a train and pieces of glass — and then a jolly melody on accordion in a coffee shop in France, where glasses are also filled with good, cold beer. Heavy and irregular breathing sets in, transforming into… silence… and then the accordion again, disfigured by electronic manipulations that evidently draw on the sounds from the accordion, moving on in like a swarm of slow-motion bees!
The combination in this piece of familiar instrumental sounds, synthetic renderings of, and deviations from, these instruments, paired with long, lonely sounds of unknown origin and attacks of steelwork acoustics of a sheet steel character leaves you at loss of words — again! Blanchard takes my breath away with his electroacoustic pieces! I would pay handsomely for this stuff, if it hadn't been sent me for reviewing!
Blanchard is no lazy-bone, I can tell, because this music will demand an almost Stockhausenesque energy to be completed. I am impressed!

To sum it up, this CD is a brilliant expression of intense complexity, utter ingenuity, striking beauty and a head on dive through the most amazing sonic universe!
---